Dr. David Sharlin, Professor, MS Program Coordinator
PhD | Faculty
Address: Office | 342 Trafton Science Center S
Phone: 507-389-1085
Email: david.sharlin@mnsu.edu

Degree
PhD, Molecular and Cellular Biology, University of Massachusetts, 2007
BS, Zoology, University of New Hampshire, 1999
Training
Research Interests
Thyroid hormone action in development
Thyroid hormone and Igf1 in Brain Development
Thyroid hormone transporters
Thyroid disruptors (endocrine disruptors)
Auditory system development
Brain Development
Research in my laboratory focuses on understanding the role of thyroid hormone during development of the nervous system and sensory systems. We are particularly interested in understanding the molecular and cellular basis of neurocognitive and auditory deficits associated with insufficient thyroid hormone during development as a result congenital thyroid diseases. The lab also has a strong commitment in determining the mechanisms by which endocrine disrupting chemicals may interfere with the capacity of thyroid hormone to direct development of the nervous system.
I regularly teach a Human Anatomy (BIOL220) and Developmental Biology (lecture/lab BIOL424/425). I also teach the RISEbio Foundational Methods in Biology 1st semester course. My goal in teaching is to provide material in a way such that it fosters critical thinking and permits students to develop as independent thinkers.
Recruitment
The Sharlin Lab is looking for Biology MS graduate students! Interested in endocrine (thyroid) disruption or nervous system development - we have projects for you. Teaching Assistantship with modest stipend and tuition waiver may be available. Send me an email.
Sharlin Lab News
April 2022: Huge props to Jane Sakowiz and Jessica Wimp on the successful defense of their honors program portfolios. And congratulations to Jessica for being selected to give the senior address at the honors banquet!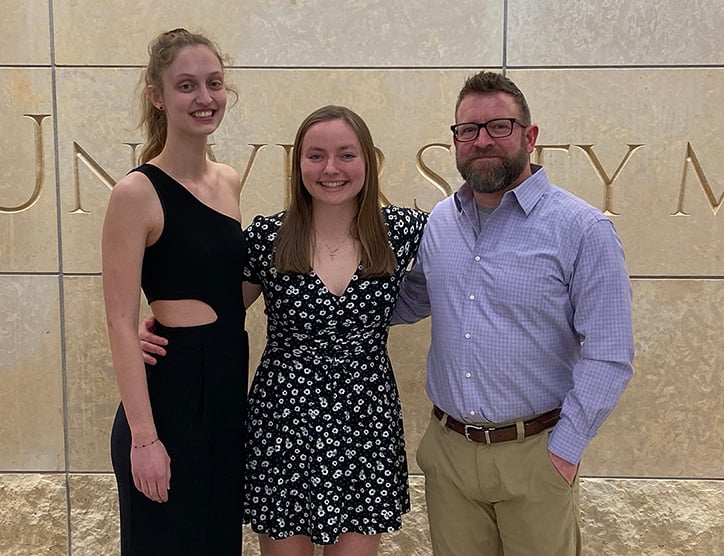 April 2022: Congratulations to Jessica Wimp and Ainsless Hemmen on their fantastic presentation at the 2022 Undergraduate Research Symposium - LIVE. Click here to see all the poster presenters from Biology.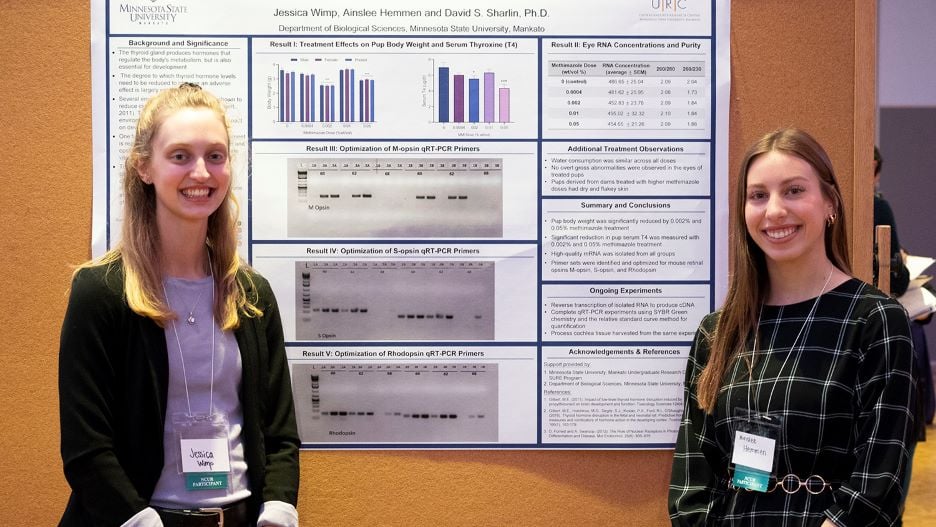 March 2022: We are humbled to announce that Dr. Sharlin has been awarded two University awards - the Douglas R. Moore Research Lectureship and the Distinguished Faculty Scholar Award.
January 2022: Sharlin Lab welcomes new undergraduate researchers! We are excited that Ainslee Hemmen (Biochem), D'Aaliyah Johnson (Biomedical Sciences), Matthew Jensen (Biochem), Ellie Cha (MLS), and Oltjona Muca (Biomedical Sciences) are joining our team.
April 2021: Congratulations to Jane Sakowiz, Amyah Ockenga, Lauren Krieg, and Jessica Wimp on their fantastic presentations at the virtual Undergraduate Research Symposium. Your hard work is evident!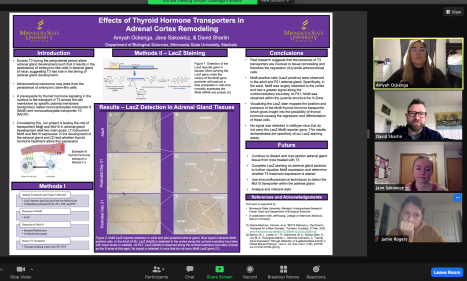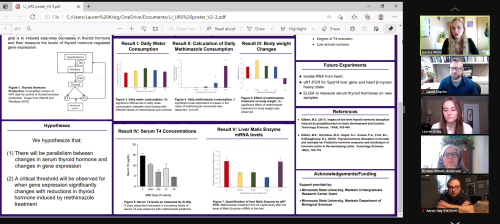 November 2020: Funding Alert! Congratulations to undergraduates Jane Sakowiz, Amyah Ockenga, Lauren Krieg, and Jessica Wimp for being awarded Supply Grants from the Undergraduate Research Center.
August 2020: The Sharlin Lab welcomes new Biology MS student Prathibha Mangedarage. We also welcome undergraduates Jane Sakowiz, Amyah Ockenga, and Jessica Wimp.
June 2020: CONGRATULATIONS to graduate student Maria Uscategui Calderon on successful thesis defense! Maria is leaving us to start her PhD in the Molecular and Developmental Biology Program at Cincinnati Childrens.