CM Interns: Design
Early in her collegiate career, Brittany Mitchell switched majors five times. Mitchell pursued marketing, communications and several business courses, along the way getting a well-rounded education but never really finding her niche. Then she registered for architectural drafting and the clarity Mitchell sought for herself emerged; her future, she knew, would involve interior design.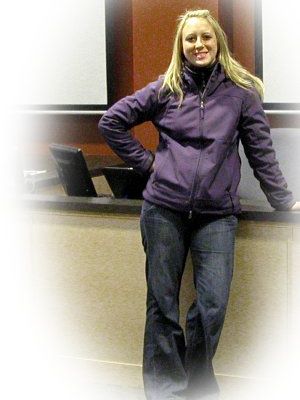 But what Mitchell didn't understand until later was that design involved much more than making things look pretty. "The reality of a design may not be functional or buildable," Mitchell explained. "I knew how to make things look pretty but pretty things may not work from a construction standpoint." It was this understanding that led Mitchell, a graduate of Minnesota State University, Mankato's Interior Design program, to continue her education to include a degree in Construction Management. "A lot of designers don't have the ability to design something and know that it is going to work, but that was important to me and it was the number one reason why I went back for the CM degree."
Mitchell secured an internship with Fargo, N.D.-based architecture firm R.L. Engebretson. Her internship was half-time performing mostly architectural drafting for local projects, which allowed her to continue coursework. Upon graduation, Mitchell joined the firm full-time. Over the next four years, Mitchell's days included more and more project management. By the time she left R.L. Engebretson, she had become Design Project Manager, using her skills to lead a myriad of projects from concept to completion – banks, restaurants, commercial office remodels, and schools, including Minnesota State University, Mankato. "Design was what originally brought me into this industry," she recalled, "but I preferred project management. It has been nice to be able to do both."
Mitchell joined Minnesota State University, Mankato, Facilities department as Project Manager in 2011; the career transition, she said, has been easy. "I've done so much work with the University and I went to school here. It was just kind of like coming home. For six years I was just down the hall."
Mitchell oversees her share of construction projects underway on campus. Her first project was a dorm remodel which she'd done drawings for while still employed with R.L. Engebretson. Other projects vary in scale from full-up construction to tiny office remodels. Her design background comes into play when selecting furnishings, surface materials, even the art that will hang in the hallways.
"I like to kid and say I can do everything an architect can do with my experience drafting and working for an architect for four years," Mitchell said. Some University projects are sent out for architectural bids and Mitchell and her colleagues see those designs carried out by either sending out for contractor bids or by having Minnesota State University, Mankato's construction crew handle the work.
"When I was with the architecture firm, we did Ostrander Auditorium and that has been kind of a pride and joy piece on the campus," she said. "I was really happy to be able to assist in that."
Mitchell also recently managed completion of a computer lab in the library basement. "We took two spaces and essentially turned them into one and it is a fully-modern, advanced technology space," she said. A space that is both aesthetically pleasing and functional, she added. Melding form and function is Mitchell's forte.
Because much of her time is spent interacting with construction crews in the field, Mitchell says she still encounters some who are surprised to find their project manager is a woman. "I am not a typical woman," Mitchell said. "I am not dainty and it doesn't scare me to get in there with them, get on a ladder; I'm not afraid to get muddy and dirty … I think that helps." Mitchell says she's intent on continuing to learn and ask questions on the job. "I think people like that; it shows I have an interest in, and respect for, the work."