CM Interns: Discover
Trevor Hohertz commenced his post-collegiate job search with a resume steeped in residential work. During college he worked as a construction manager for Habitat for Humanity South Central Minnesota. Throughout junior high and high school he was the sole employee of a Twin Cities-based home builder who focused on remodeling and new construction. Even as far back as age 10,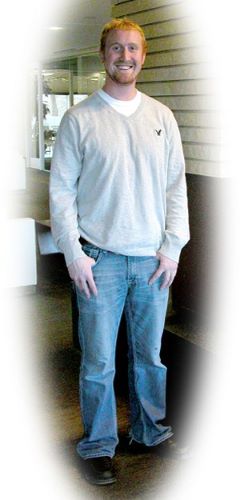 Trevor had his hands in residential projects as he helped out his father, a self-employed landscaper. But upon graduation from Minnesota State University, Mankato's Construction Management program, with a decade of residential experience under his work belt and his own residential construction company already incorporated and taking on projects, Hohertz turned in a new direction. Instead of signing on with a home-builder, Hohertz joined the renewable energy team at Minneapolis-based Mortenson Construction. His first field assignment took him to Laurel, Iowa, where he and his team erected 52 Siemens wind turbines.
"Residential construction is my dream and it's where I see myself in 10 years, but this is fun," Hohertz said. The turbine projects require the use of cranes and heavy equipment. "It is interesting and I am really enjoying it. I work on these structures that are 80 meters tall (165 feet) and prior to this the highest I have been is on a three story house."
"Renewable energies needed field engineers," he said of the Mortenson division that offers him salary, benefits, and the opportunity to travel. "I graduated in May and was with the team in Iowa in July," Hohertz said. Mortenson has completed more than 100 wind projects totaling nearly 11,000 megawatts of renewable energy. Hohertz said it took his crew approximately 446 man hours to erect each turbine.
Hohertz used his personal network to land the position at Mortenson, which started as an internship but quickly became fulltime employment. (His CM program internship was completed a year earlier with Concrete Arts in Hudson, Wis.) He credits communication skills and leadership skills honed during his years in Mankato helped him secure the position and the compensation is a benefit Hohertz enjoys as a result from the shift in focus for his career. "Mortenson is such a great company and they treat me well, they treat all their employees well," Hohertz said.
That doesn't mean Hohertz has given up on his dream of becoming a home builder. "The money I am making now will make my dreams possible," he said.