Industry Advisory Board
Maintaining active relationships with industry professionals is a program differentiator for Construction Management at Minnesota State University, Mankato.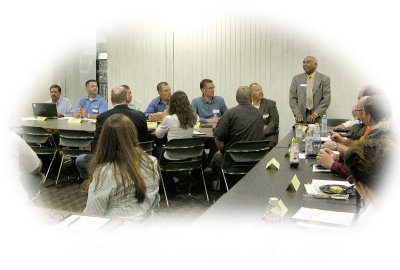 The CM program has an active Advisory Board composed of industry professionals, many of whom are graduates of the program.
Advisory Board members get involved in program development, curriculum, advising, assessment and planning, student activities, and faculty development.
The CM program gains important strategic vision and derives great overall benefit from the industry professionals who actively participate in its Advisory Board.
Current Advisory Board members include:
Ames Construction, Todd Elbert, Senior Estimator, Burnsville, MN
Blattner Energy, Inc., Ken Hilgert, Chief Estimator & Marketing Director, Avon, MN
Cherne Contracting Corp., Mike Riker, Lead Estimator, Bloomington, MN
Danny's Construction Co., Tina Serafin, Vice President of Operations, Shakopee, MN
Elder-Jones, Inc., Greg Lucivansky, Senior Project Manager, Bloomington, MN
Ellingson Companies, Jeff Saucier, Vice President, West Concord, MN
Exterior Building Services, Tamelyn Holter, Owner, Bloomington, MN
Garney Construction, Greg Harris, Vice President, Apharetta, GA
Greystone Construction, Vana Greischar, Director of People Operations, Shakopee, MN
Interstates, Jordan Thomas, Project Manager, Sioux Center, IA
Kraus-Anderson Construction Co., Alec Miller, Project Manager, Minneapolis, MN
Kohl's Department Stores, Jason Kraus, Senior Manager of Property Development, Menomonee Falls, WI
Landmark Development Company, LLC, Gregg Johnson, Project Director, Minneapolis, MN
Larson - King, LLP, Caryn Boisen, Attorney, St. Paul, MN
M/I Homes, Chris Haefner, Vice President of Purchasing
Moriarty Scheduling Services, Betsy Moriarty, President, Chisago, MN
Mortenson, Blair McNeil, General Manager, Minneapolis, MN
Olympic Wall Systems, Patrick Forliti, Senior Vice President, Minnetonka, MN
PCL Construction, Chris Tauscheck, Project Manager, Burnsville, MN
Rauenhorst Recruiting Co., Chuck Rauenhorst, President, Minneapolis, MN
Ryan Companies, Jason Gabrick, Division Manager, Minneapolis, MN
Ryan Companies, Tara Blotske, Sr. Project Manager, Minneapolis, MN
Schwickert Tecta America LLC, Kevin Palmer, President, Mankato, MN
Stanley & Wencl, LLC, Dan Stanley, President, Savage, MN
USI Insurance Services, Christy Parson, Risk Management Consultant, Bloomington, MN
Wells Concrete, Jace Rossow, Sales, Maple Grove, MN
Willmeng Construction, Chad Larson, Senior Project Manager, Phoenix, AZ