Ford Lectureship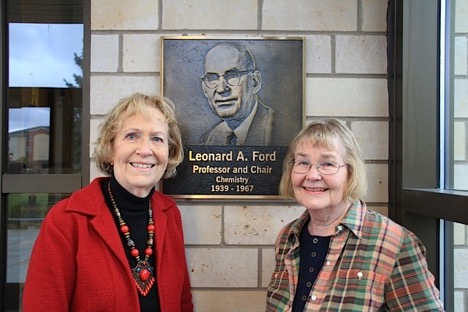 Daughters Barbara Ford Olson (left) and Joyce Anderson (right), in the entry way to the 67,000 square foot Ford Science Hall which is named after their father Dr. Leonard A. Ford.
Leonard A. Ford Lectureship
The Ford Lectureship is made possible through the generous contributions of Barbara Olson and Joyce Anderson in honor of their father, Leonard A. Ford.
Ford Lectureship speakers have included a wide range of accomplished scientists from internationally recognized alumni to Nobel Laureates. Two presentations are given during each event, one a more technical presentation given during earlier in the day and the second of more general interest presented that evening.
The Ford family also funds an endowed Ford Chemistry Scholarship.
Previous Presenters of the Annual Ford Lectureship

Name
Year
Name
Year

Paul Gassman

1990

Mary Kirchhoff

2005

Ronald Hites
1991
Joseph Turpin
2006
Mary Good
1992
Carolyn Merritt
2007
Jeanette Grasselli
1993
Ruth Reck
2008
Mary Virginia Orna
1994
Kathleen Cox
2009
James Cusumano
1995
Michael LaCroix-Fralish
2010
Ron Perkins
1996
George R. Helz
2011
Jerrold Meinwald
1997
Duane Grandgenett
2012
Darlene Hoffman
1998
William Arnold
2013
Paul Anastas
1999
Peter Agre
2014
Richard Ward
2000
Michael T. Osterholm
2015
Joseph Lambert
2001
Malika Jeffries-EL
2016
Timothy Pifer
2002
Sarah Hobbie
2017
Sue Clark
2003
Rob Kania
2018
James BeMiller
2004
Brian Kobilka
2019
Marc Jenkins
2021