Biological Imaging Facility
The Biological Imaging Facility (BIF) is a core facility that serves the imaging needs of the department, the college, and the university. The BIF houses a Zeiss LSM880 with Airyscan, a JEOL scanning electron microscope outfitted with a cathode luminescence detector and a silicone-drift energy dispersive spectroscopy system, and a Zeiss AxioStar Plus epi-fluorescence microscope.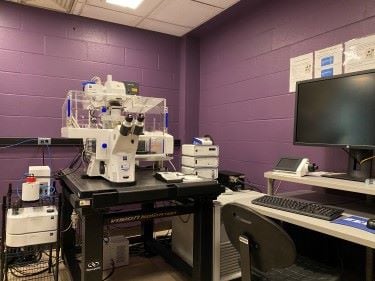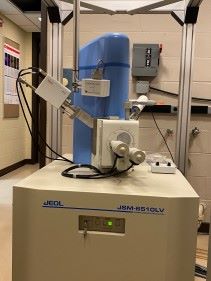 The BIF provides training for its users and once certified, the user has unrestricted access to the instrument. Users reserve microscope time - LSM880 or JEOL SEM - through a web-based reservation system. During prime time (9 am-5 pm Monday-Friday), the facilities ask that reserved time be limited to 2 consecutive 2-hour blocks (4 hr block). Each certified on-campus user will be given MavCard access to the imaging facility.
No user fees apply for on-campus users. Off-campus users will be charged at a negotiated rate.
To reserve microscope time, you must be trained and cleared for unrestricted access. Once cleared, click the button below to reserve time. Equipment time is booked in 2 hour blocks. Multiple contiguous blocks can be reserved.
Select a service: Zeiss LSM 880 Confocal, JEOL SEM, or Zeiss AxioStar
Select a date and time.
Enter name and email. Add notes or other information as needed.
Repeat for multiple blocks.
Click here for the Reservation Calendar
Please contact facility manager Dr. David Sharlin with questions. Facility managers reserve the right to cancel reservations.