Iron Range Engineering
This program is offered on Minnesota's Iron Range in Virginia, MN
The Iron Range Engineering program strives to educate engineering students by providing the synergistic qualities of technical learning and work on authentic projects with industrial partners. In addition to the development of new engineers, Iron Range Engineering looks to benefit the local, northern Minnesota, community and industries and to address the needs of community college graduates and transfer students.

In the Integrated Engineering programs of Minnesota State University, we help student engineers "Break Barriers".
In the heart of Minnesota's Mesabi Iron Range, a new model for engineering education began delivery in January 2010. IRE students are upper-division engineering students who are enrolled at Minnesota State University, Mankato and are typically graduates of Minnesota's community colleges, most commonly from Itasca Community College Engineering (Grand Rapids, MN). The Iron Range Engineering (IRE) model is a project-based-learning program in which students work closely with industry on design projects throughout their 3rd and 4th years. The goal of this approach is to produce graduates with significant integrated technical and professional knowledge and competencies.
The IRE model is roughly a 40 hour-per-week experience in an engineering-type office/lab setting, where students learn engineering design through actual practice, and managing engineering projects for industry clients.
Students manage the acquisition of their technical competencies by learning and applying the engineering concepts in context with their design. Roughly, 20 hours per week are dedicated to design execution, and 20 hours to technical learning with the goal of synergy between the two. This arrangement relies heavily upon industry partnership and these industries usually, but not exclusively, involve paper, mining, and energy production.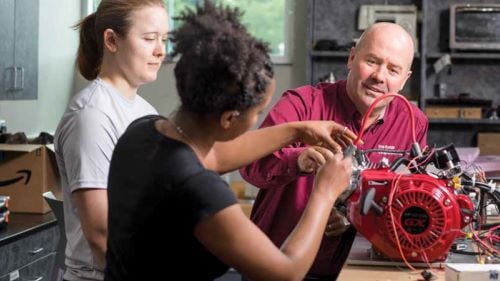 When engineering professor Ron Ulseth imagines the "ideal classroom," he envisions something completely hands-on. In recent years, IRE was recognized as one of the top 10 emerging engineering programs in the world.
Learn more by visiting our program website or follow us on Facebook.